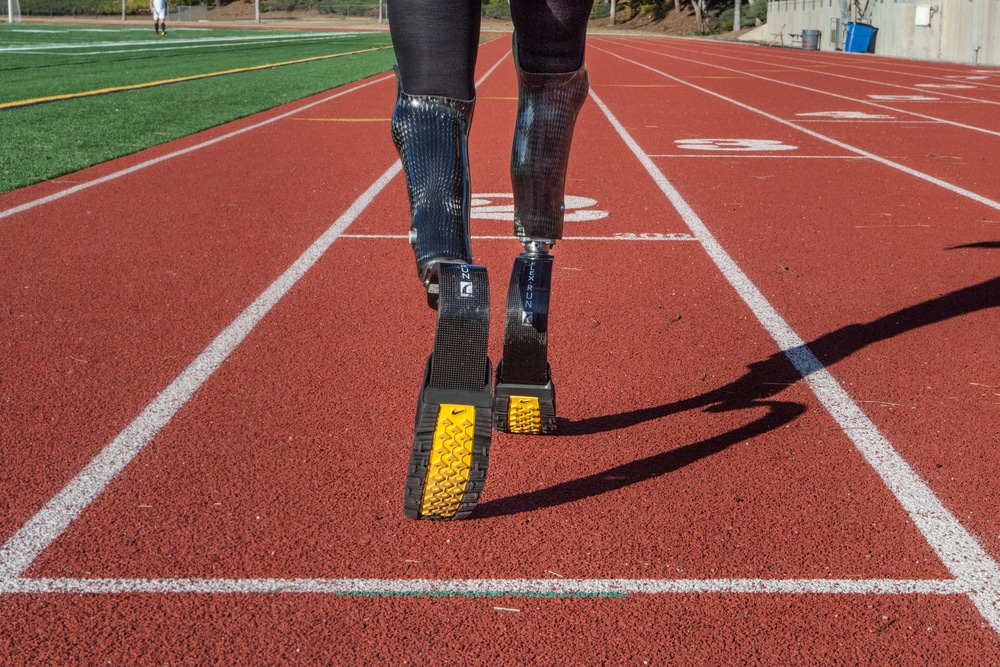 A double amputee, champion athlete, motivational speaker, author and teacher.
Jami Marseilles has been a bilateral amputee (loss of both legs) for more than 30 years. She is a hard-driving athlete and the only bilateral amputee to complete a marathon.
She's a mom of two kids, an elementary school teacher, author of two books and has been featured in two major motion pictures.
To encourage others with physical limitations, Jami is an ambassador for Ossur Prosthetics - helping amputees experience a full life without limits.
The Start of a Champion
As a child, she did not like to sweat or work hard. In junior high school when she was required to run during gym class she would sneak away and hide behind another school building. She says she's guilty of, "not being an active participant in her high school."
Jami's Transformation
Jamie almost died in 1987 when she and a friend were returning from a ski trip in New Mexico. Jami was 19 years old. She and her 18-year-old friend Lisa Barzano were driving on in northern Arizona on State Route 273 near Crescent Lake when their vehicle got stuck in the snow.
The storm was so severe that the Arizona Department of Transportation was forced to close several roads in the area. Unfortunately, the two girls were left stranded on a closed road for 10 days.
They were eventually discovered by a snowmobile driver. They survived by melting snow in plastic zippered bags on the dashboard of their car. But they didn't have enough warm clothes to survive the blizzard conditions. Both of Jami's legs were severely frostbitten and to save her life needed to be amputated.
After her amputation, she was told that she needed physical therapy and to start exercising. After her traumatic ordeal, this was something that Jami was simply not interested in.
Over time, with the encouragement of doctors and her family, Jami did eventually embrace her new life and, started to call it her "different-ability."
The Journey of a Champion
She started training and learned to be more agile on her prosthetic legs.
In 1996, after watching the Paralympics Games on TV, Jami decided to become a professional Paralympics runner herself. Fitted with "Cheetah" legs, she took naturally to running and soon began to compete internationally.
Not only is she the holder of numerous world records and multiple gold medals, but Jami is also the only "double below the knee amputee" woman in the world to have successfully completed a half marathon and full marathon (26 miles).
She is a regularly call upon speaker for the Challenged Athletes Foundation which develops adaptive equipment for amputees and people with other disabilities.
With her unstoppable spirit and amazing survival story, Jami now encourages others how to use the power of their bodies, minds, and spirits to overcome and thrive through the adversities they encounter.
You can connect with Jami on her website: ihttp://iamjami.com/
Or watch some of her videos here:
Video Transcript:
Every morning we have two choices:
Continue to sleep with your dreams or

Wake up and Chase Them
I choose to chase them
I am Jami Marseilles, the only bilateral amputee in the world to finish a marathon.
It wasn't until I lost my legs that I learned how to run.
The training and obstacles I faced were intense challenges.
But I could never have imagined how far my new bionic legs could take me.
My goal is to motivate and inspire others to conquer their own challenges.
I have a passion to live my life to the fullest. Lifted Trucks shares that passion with every truck they build.
Jami surrounds herself with good people that she trusts and that's why Jami chooses Lifted Trucks.
Work Hard; Play Hard; Drive Harder … Lifted Trucks