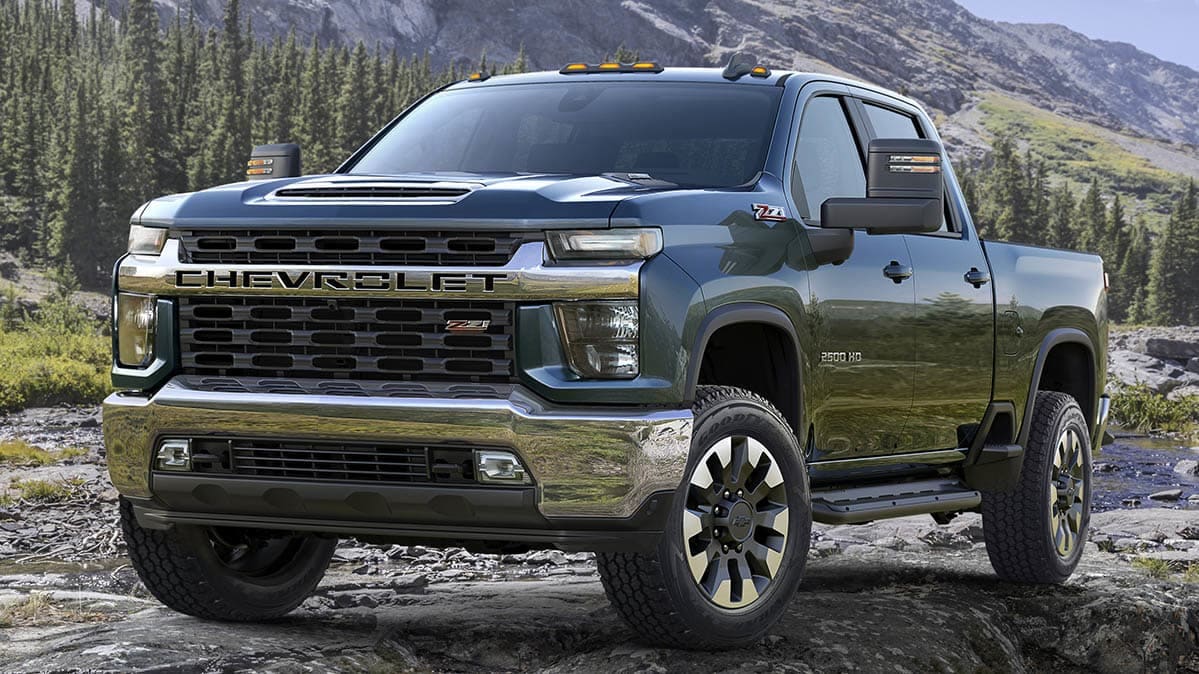 ​
With a new design, beefed-up engines, and higher towing capacities, the latest Chevrolet Silverado is at the top of the full-size pickup truck class. The Silverado 2500 has high scores in performance and interior, and critics predict it will also receive a high reliability and safety rating. The 2020 Silverado ranks highly in its class for the powerful engine choices and a spacious interior.
With the new design, drivers love the sharp headlamps, sleeker body style, and slightly larger cabin. The overall impression is that it has top-notch fuel economy, especially with the turbodiesel engine. There's also a 3.0-liter turbodiesel engine for those who need more power and still want to maintain efficiency. Here are some other details about the Chevy Silverado 2500:
New Chevy Silverado 2500 HD Changes
The 2020 Silverado 2500 has been ranked highly for its performance in the full-size class. It has powerful new engines and trims that feature balanced, smooth handling. The interior has also been redone with new soft-touch materials and synthetic leather. You can also upgrade to stylish leather upholstery in a variety of colors, such as saddle and light tan.
The Silverado 2500 has remarkable towing capcacity, and it has a higher fuel economy with the turbodiesel engine option. With ample passenger space and a larger cabin, it's a much different model than in previous years. Chevy also has added a new 6.2-liter V8 engine to the lineup for additional power and towing capacity.
New Chevy Silverado 2500 HD Performance
The base trim for the Chevy Silverado 2500 is the regular cab 2WD work truck that has a V6 engine. While this version gets a little over 250 horsepower, you can upgrade the engine and drive train to get even more power out of the Silverado.
The 4.3-liter V6 engine offers 285 horsepower and 308 pound-feet of torque. There are a few different engine options, including a 5.3-liter V8 that puts out 355 horsepower and 383 pound-feet of torque. If you want everyday power, the four-cylinder offers more fuel efficiency for lightweight work duty. The V8 and turbodiesel engines are best for more power and towing capabilities.
New Chevy Silverado 2500 HD Interior
The cabin sizes in the Silverado 2500 HD can be customized for whatever you need. It's roomier than the previous Silverado models, and it includes more cargo space in the bed area as well as user-friendly technology. The Silverado can seat up to six people. The vinyl upholstery and four-way adjustable seating are available in the standard versions, but there are more comfortable options with the premium packages.
The technology in the Silverado 2500 HD has also been beefed up. The standard package includes a seven-inch touchscreen infotainment system as well as Bluetooth, Android Auto, USB ports, Apple CarPlay, and power windows and locks. There are a few other features for those who choose the premium packages or upgrade with new technology. This includes a six-speaker stereo, a Wi-Fi hot spot, satellite radio, more USB ports, and a Bose premium sound system. Optional features include an eight-inch digital instrument cluster, more power outlets, HD radio, wireless device charging, and a universal garage door opener.
The smart safety features are abundant in the latest Chevy Silverado 2500 HD. You'll receive 360-degree cameras and sensors, allowing for lane departure warnings, departure lane assist, blind-spot monitoring, rearview camera, automatic high-beam lights, and following distance indicator.
Visited Lifted Trucks to Learn More
It's time to get into a new truck. The Chevy Silverado 2500 HD is waiting for you to test drive at Lifted Trucks in the Phoenix area. We look forward to showing off this model in person soon!